If you're using Chrome or Safari, go to vimeo.com and click the little microphone icon in the search box.
You can tell it what to search for! With your voice!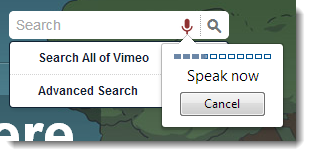 This bookmarklet adds speech input to all text fields, not just those that the web developer wanted.
Simply drag this link to your bookmarks, then click it when you're on a page with a form you want to talk to.
This only works in browsers that implement the Web Speech API, like Chrome and Safari.
Try it out
Run the bookmarklet, then click the microphone icon, or press CTRL + SHIFT + . (the full stop).
Here's a normal input field.
Here's a textarea.